So I promised a Sarah Jane Adventures/Press Gang crossover months ago. I am working on it. I promise, but I hadn't written for a while when I first started, and now I'm finally getting back into it. And the plot's changed slightly. I was watching There Are Crocodiles for the hundredth time and an idea just jumped at me, so I've worked it in. Liz Shaw's still there, so is U.N.I.T and a Torchwood branch, but the focus has shifted.
And as an apology for the lack of fic, I present to you a gif of evil!Saffy from the deleted scenes of AbFab...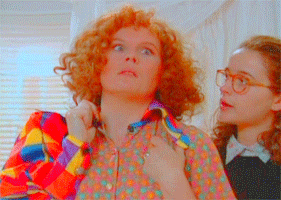 And one of Colin and Lynda...